home yachts other ships marinas news contact
MY Capricorn - Fincantieri - 148 m - 1999
End of October 2011 superyacht media reported the sale of the high speed ferry Capricorn to an owner who intends to convert the vessel into a 152 m megayacht. Designer and conversion shipyard are not yet known. Capricorn is powered by four MTU diesel engines and two GE gas turbines with a combined power of 95,000 hp, giving the vessel a top speed of over 40 knots. If we assume that this propulsion system would be preserved during the conversion, Capricorn could become the fastest megayacht over 100 meters.
BACK TO LIST For all inquiries and high res photos please send me an E-MAIL.
Photos by Andreas Wörteler: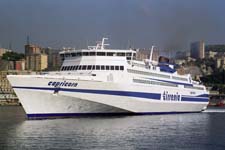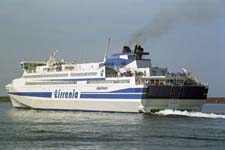 Photo by Wil Weijsters: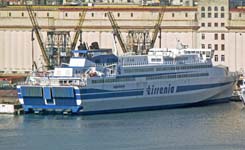 All photographs are © SEYFFERTH ART and may not be used or reproduced in any way without expressed prior written consent, all rights reserved.