home yachts other ships marinas news contact
MY Honey Fitz (ex Leonore, CG-92004, Leonore II, Barbara Anne, Honey Fitz, Patricia, Presidents) - Defoe Boat Works - 28,13 m - 1931
Built for Sewell Avery as a private yacht. Expropriated by the US government in 1942 and reconditioned as a coast guard vessel. 1945 transformed into a tender for the USS Potomac. Later used by Harry S. Truman as a tender to the presidential yacht Williamsburg. Dwight D. Eisenhower retired the Willamsburg and the tender became the new presidential yacht under her new name Barbara Anne. John F. Kennedy renamed her Honey Fitz for his maternal grandfather. Richard M. Nixon renamed her Patricia after his wife. Bought by Joe Keating in 1970, she was renamed Presidents. (Source: jfklibrary.org) In recent years the Honey Fitz was restored by Moore Marine.
BACK TO LIST For all inquiries and high res photos please send me an E-MAIL.
Photo by Ulrich Streich (1993):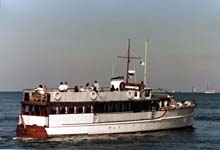 All photographs are © SEYFFERTH ART and may not be used or reproduced in any way without expressed prior written consent, all rights reserved.